Pew surveyed more than 3,400 U.S. Facebook users in May and June, and found that a whopping 44 percent of those ages 18 to 29 say they've deleted the app from their phone in the last year. Some of them may have reinstalled it later.
Significant shares of Facebook users have taken steps in the past year to reframe their relationship with the social media platform.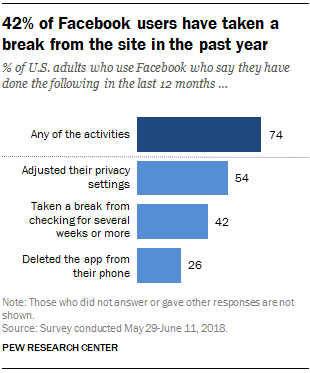 Just over half of Facebook users ages 18 and older (54%) say they have adjusted their privacy settings in the past 12 months, according to a new Pew Research Center survey. Around four-in-ten (42%) say they have taken a break from checking the platform for a period of several weeks or more, while around a quarter (26%) say they have deleted the Facebook app from their cellphone. All told, some 74% of Facebook users say they have taken at least one of these three actions in the past year.
The findings come from a survey of U.S. adults conducted May 29-June 11, following revelations that the former consulting firm Cambridge Analytica had collected data on tens of millions of Facebook users without their knowledge.
Overall, 26 percent of survey respondents say they deleted the app, while 42 percent have "taken a break" for several weeks or more, and 54 percent have adjusted their privacy settings.
The results don't necessarily spell dire news for the company as a whole. The survey measures only the core Facebook app, not Facebook-owned Instagram, WhatsApp and Messenger, all of which remain popular and offer a lot of room for revenue growth.