"Hello, Twitter! It's Barack. Really! Six years in, they're finally giving me my own account."
So, it's official. After years of signing "-BO" at the end of @BarackObama to signal the tweets he crafted himself from an account operated by the Organizing for Action staff, the President now has his very own handle @POTUS, tweeting for the first time.
Sometimes, they said, Mr. Obama will type the words himself, as he did Monday, when he was captured in a photo released by the White House. Other times, he might dictate a message to a staff member. In a few cases, officials said, someone else might prepare a post for his approval.
It is unclear what device Mr. Obama will use to compose his thoughts. The first message was sent on an iPhone, but aides said the phone belonged to the Executive Office of the President and was not regularly carried by Mr. Obama. Officials declined to comment on the president's personal technology, but it is unlikely that he will post messages from his security-hardened BlackBerry, reports NYTimes.
Hello, Twitter! It's Barack. Really! Six years in, they're finally giving me my own account.

— President Obama (@POTUS) May 18, 2015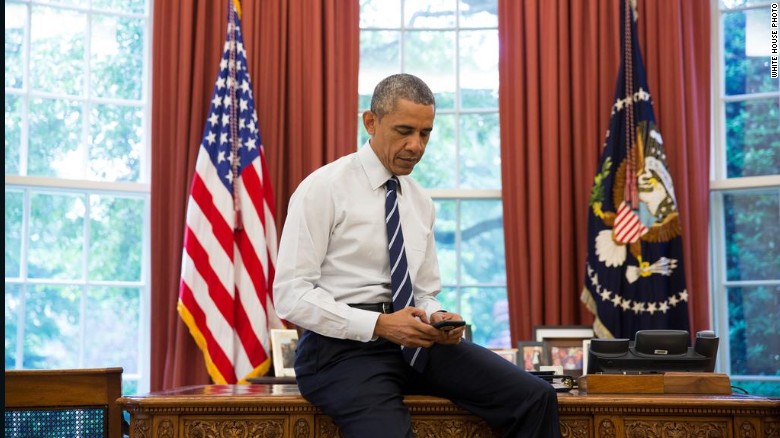 And then there is the existing @BarackObama Twitter handle, which was started in 2007 and has 59.2 million followers. It is, however, operated by Mr. Obama's former campaign operation and is rarely used by the president. There is also the @WhiteHouse handle, which communicates official missives to its 6.1 million followers.   But the promise of the new @POTUS handle is something different. A White House blog post vowed that the new Twitter account would feature "tweets coming exclusively from" the president. And Twitter users seemed to seize on the notion that Presidnt Obama might be scrolling through his timeline in his spare time.   And some asking the question on a lot of people's minds, what happens to the handle when a new President takes office?  
Welcome to @Twitter, @POTUS! One question: Does that username stay with the office? #askingforafriend — Bill Clinton (@billclinton) May 18, 2015
To which a reply came:
Good question, @billclinton. The handle comes with the house. Know anyone interested in @FLOTUS?

— President Obama (@POTUS) May 18, 2015
According to a White House official, @POTUS handle will transfer to the next President when Obama leaves office on 2017. Naturally, folks on social are having a little fun with this new presidential social presence: Follow the Trend