Bitcoin dropped below $6,000 and dozens of smaller digital tokens tumbled as this month's selloff in cryptocurrencies showed few signs of letting up.
The largest digital currency fell as much as 6.2 percent to $5,887 as of 3:07 p.m. in Hong Kong, the lowest level since June, according to Bloomberg composite pricing. Ether sank as much as 13 percent, while all but three of the 100 biggest cryptocurrencies tracked by Coinmarketcap.com recorded declines over the past 24 hours. The total market capitalization of virtual currencies dropped to $192 billion from a peak of about $835 billion in January, erasing much of the gains seen during the speculative mania at the end of 2017.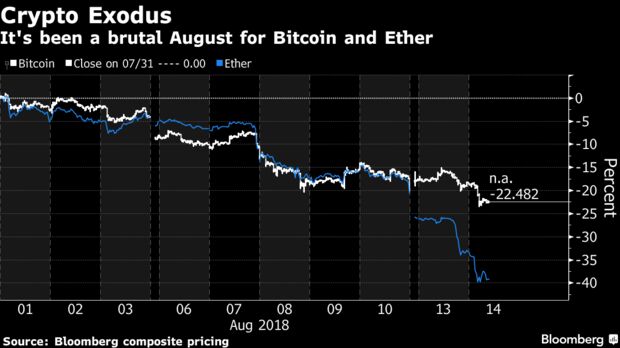 "Most cryptocurrencies have been overvalued for a very long time," said Samson Mow, chief strategy officer at blockchain developer Blockstream Corp. "It's hard to pin this move on any particular factor, but it feels like the opposite of last year when money piled in as people felt FOMO. Now it's piling out as they sense panic."
While cryptocurrencies rallied in July on hopes that a Bitcoin-backed exchange-traded fund would attract new investors, U.S. regulators have yet to sign off on multiple proposals for such a product.